12-Week Training & Mentoring Programme
for businesses who are tired of marketing to a brick wall
What you offer is awesome. It's value-adding, problem-solving, money-generating, life-changing, mind-altering, ground-breaking, super, sexy, sensational…
Ok, maybe what you offer isn't all those things, but it's still pretty bloody good. You know your stuff. You know what you offer can help people. And you really, really want to help those people.
But you just can't seem to generate leads. Or sales.
No matter what you do.
You've tried it all – networking, Facebook, LinkedIn, website, video, blogs, emails, paid ads – the list goes on. Maybe you've even invested a little bit of money here and there, either learning how to DIY or getting an 'expert' to do it for you.
And still, you find yourself scraping around each month for the next new client.
It's exhausting.
So what's the answer?  
Copywriting.
Think about it. Every type of marketing requires words – emails, social media posts, adverts, your website, blog posts, video scripts, even your proposals.
And whether you're in the early stages of trying to attract new prospects or are at the final stage of closing the deal, your copy can make or break you.
Yet, so many business owners get it wrong.
They spend time or money learning the theory behind a specific platform or marketing activity – how it works, how to do it and so on. But they miss the essential ingredient – copywriting.
It's like making a cake but not turning on the oven. Or buying a car when you don't know how to drive. Or trying to run a marathon in flip flops.
And copywriting isn't something you can learn overnight. It takes time and practice.
But it is something you can learn.
And that's where my 12-week copywriting training and mentoring programme comes in.  
My programme isn't about teaching you stuff and then leaving you to implement it yourself. Nor is it about telling you what to do without explaining why or how it works.
My programme is a combination of teaching and mentoring, theory and application, learning and doing. It's about giving you the tools to start getting results from your marketing.
Skills and knowledge – you'll learn copywriting and marketing skills and techniques – the theory part.

Application and implementation – you'll put the skills into practice, creating content that can actually be used in your business – the practice part.
Feedback and collaboration – we'll review your copy together to improve and develop your skills further – the mentoring part.
"I signed up for Lisa's 12 week course after searching for someone to support me and help drive business forward. And, during this time I have learned how to write better copy, improve my marketing, increase my profits and boost my confidence. If you're looking for similar support contact Lisa. You won't regret it." – Peter W, Recruiter
Because this is a one-to-one programme, places are limited, so I can't just accept anyone. I want to work with the people who I think will benefit the most and get the best results. To get the most from this programme, you must meet the following criteria:
1. You must be prepared to work hard and commit time and money
You're either in or you're out. This isn't a pay as you go type offer – you will be required to commit to and pay for the full programme up front (if you are accepted).  And, this is not a get rich quick scheme – it involves hard work and homework. A positive mindset is all well and good, but if you want results, you'll have to put in some effort. We can spread the 12 sessions over 12-16 weeks to accommodate holidays and emergencies, but you will need to set aside time throughout the programme to complete the required tasks. If you cannot dedicate time and energy to working on your business, then this isn't right for you. 
2. You must have control over your marketing 
This programme has been designed for business owners who have full creative control over their marketing. This includes having full control over your website content, social media pages and so on. It can also be adapted for employees who have been put in charge of the company's online marketing, but is not suitable for franchisees with centralised or restricted marketing, or MLM businesses. 
3. You must be an ethical, honest business
I will not work with you if I have any reason to believe that you do not offer value to your customers or clients or if you act dishonestly.  I will not help you promote or sell ideas, propaganda, products or services that I view as dangerous, unethical or a scam. 
You probably want to know what you get for your hard-earned pennies – a week by week breakdown of what you'll learn.
But that's the beauty of bespoke training and mentoring – it's tailored to you, so there's no set lesson plan. 
What I can tell you is it starts with a strategy. We know what your goals are – attract and convert more of your ideal clients and charge the prices you deserve. So we'll put a plan in place to achieve that. 
The rest will depend on what state your current marketing is in, who your ideal clients are, and what level of skill you already have. 
If you're a business owner, we might start by getting your website copy up to scratch so that it's a conversion machine. Then we'll work on getting traffic to your site. 
If you want to focus on SEO, we'll work on keyword-focused blog content. If you've got a huge social following, we'll work on turning your followers into buyers. 
If you're a copywriter, you might want help with niching down or pricing projects. Perhaps you want a better process for getting a client brief. 
If you're a marketing junior, maybe you need to learn copywriting techniques from scratch. 
So you see, what we cover will be dependent on where you are now and where you want to be. 
But – and here's the key thing – my programme won't be based on what you think you need. It will be based on what you actually need. 
You're coming to me because I'm the expert. That means I won't let you just pick and choose the stuff that you find easy. If you want results, you need to do the work. And that means trusting me, even if what I tell you to do is hard or uncomfortable.
The likelihood is what you're doing right now isn't working – otherwise, you wouldn't be here. So I'm not going to simply let you carry on making the same mistakes. But we will play to your strengths and build on the stuff that isn't totally broken. 
If that sounds good to you, let's get started.
Before you commit yourself, we need to get to know each other. I need to know you are serious about investing in your personal development and your business. More importantly, we both need to be sure what I offer will solve your problem. 
So, if you think my copywriting programme is what you're looking for drop me a message on LinkedIn or email me on lisa@makeyourcopycount.com. 
"Incredible. I initially worked with Lisa on her 12 week course, she took me and a hotch-potch of enthusiasm, poor punctuation and a dodgy business model and enabled it to become consistent, credible and confident. Lisa continues to support my business and I, and I am bloody lucky to have Lisa in my corner helping me do the thing I love in a way that works for me." – Susie Palmer-Trew, Change Professional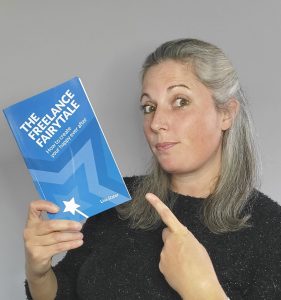 I guess you probably want to know a little bit about me since I'm asking you to trust me with your business. I get it.
So, where do I begin?
Well, I guess I could start by giving you an overview of my background…
Worked in various sales roles for over 15 years
Completed diplomas in feature writing and copywriting
Started freelance copywriting as Lisa Slater Copywriting in 2014
Rebranded as Make Your Copy Count Ltd in 2017
Created copy for over 200 clients
Delivered training to a wide variety of businesses and organisations
Published my first book in 2018
But I guess the most relevant experience is that I built my business from scratch. And like many business owners, I learnt as I went.
I was pretty fortunate that the skill I was selling was something that benefited my own business too – not all business owners have that luxury. But even so, I still found marketing and business growth tough. I read endless books and articles and invested small amounts of money into personal and business development.
But I still struggled to take my business to the next level.
And then I realised that if I wanted to grow, I needed help. Because there is only so far you can take your business by yourself, then it's time to get support with the things you find hard. And investing a few quid here and there just doesn't cut it. You need to really invest.
So I bit the bullet and invested in a mentor. It did the trick. I fell back in love with my business and started moving in the direction I wanted to go. And my 12-week programme is all about helping you do the same.
I have seen too many people get ripped off when it comes to marketing because they don't understand what they are signing up for. Or getting frustrated because they are doing everything the experts tell them to, but it just isn't working.
And I want to put a stop to that.
My programme isn't cheap, but it isn't expensive either. In fact, at £3000+vat, I think it's exceptional value.
You get one-to-one support throughout – it's like having your own personal copywriter, except I don't simply do it for you. I teach you how to do it yourself. It's theory, practice and mentoring all rolled into one.
But that's enough about me – let's talk about you. Why are you here?
Clearly, there is a sticking point in your business, and you think I might have the solution, or else you wouldn't have read this far.
So let's find out if I do have the solution.
Email me on lisa@makeyourcopycount.com or drop me a message on LinkedIn.
The sooner we get started, the sooner you'll get those clients you want.
You're a cautious one – slow to trust. That's ok. I completely understand. I used to be like that. 
I wanted to do everything myself – never wanted to admit to anyone that I was struggling. I'm a stubborn piece of shit when I want to be. 
And then I got to breaking point. I was making money, increasing my profit year on year, but I wasn't happy. I fell out of love with my business. 
So I finally bit the bullet and reached out. 
And you know what? Getting support was the best thing I ever did. It turned my business around. 
I completely understand the conflict you're having. Part of you knows there's something not right in your business and you need help. But part of you is worried you'll pick the wrong person to reach out to and end up worse off. 
Perhaps you're worried I'll judge you. I won't.
Just like a doctor, I don't care how shocking your problem is or how long you've been letting it fester; I simply want to help you diagnose and treat it.
So don't be shy. If you aren't attracting the clients you want, let's get your metaphorical marketing pants off so I can take a closer look at the problem.
I'll even make it less scary for you… 
Book yourself on one of my 90 minute strategy calls to test the water. 
If at the end of the 90-minutes you feel like you've got enough to get started on your own, great. We both go away happy. 
If it turns out I can't help you, I'll refund your money. 
And, if you decide you do want to sign up for my 12-week programme, I'll knock the cost of the strategy call off the price of the programme. 
Can't say fairer than that can I? 
So come on – have a little faith. 
Book a call and let's Make Your Copy Count. 
Are you a frustrated freelancer?
Are you caught in a feast and famine cycle? One minute you're too busy to do anything other than client work and the next you're in a panic, desperately trying to find your next client? It's hard to get into a good routine when you haven't got control of your work schedule. 
But it doesn't have to be that way. You can have a business that works on your terms. That allows you to make time for your business development, your social life, your family, yourself and your health and wellbeing. 
The Freelance Fairytale: How to create your happy ever after teaches you how. Find out more here.