Online Content Marketing Course
Content marketing is a fantastic way to generate leads for your business, and blogging is one of the easiest and most cost-effective ways to get started. 
Adding a blog to your business website can help you:
Establish your expertise and credibility
Drive more traffic to your website
Attract a new audience 
Get found in online searches
Nurture your audience until they are ready to buy
Promote your products and services
Stay in touch with existing customers
Generate leads for your business
If you're thinking about starting a business blog or you have an existing blog that isn't quite getting the results you want, then this online content marketing course is for you.
Blogging for Business: What's included?
This online blogging course is packed full of tips, advice and information to help you start and build a blog that generates leads for your business.
Downloadable workbook for your course notes
Over 150 minutes of video content
9 x modules with videos, resources and further reading recommendations
9 x practical tasks to help you get the most from the course
Lifetime access to content
30-day money-back guarantee
Module One:
Understanding Content Marketing
The first module covers the basics of content marketing and how it works.
Module Two:
Your Strategy
Start setting objectives for your blog and planning how to achieve them.
Module Three:
Your Audience
Understand who you are writing for and how you can reach them.
Module Four:
Adding Value
Learn how to find ideas for your blog and add value for your audience.
This module talks you through how to write titles that make readers click.
Module Six:
Writing Your Posts
Tips and advice on how to write and structure your blog posts.
Module Seven:
Editing & Proofreading
Editing and proofreading skills to enhance your blog posts.
Module Eight:
Increasing Your Reach
Learn how to reach a bigger audience with your content.
Module Nine:
Your Next Steps
The final module helps you plan the next steps for your blog.
" Well, I don't know where to start. This is your best course yet. You put fire in my belly and hope in my doubting mind. You have such a friendly manner about you and I never feel like you are treating the audience as if they are idiots. The length of each module I would say was mostly spot on and the tasks are a great way of solidifying what has been said. However, my notebook wants a word with you. It is now full of notes, diagrams and questions!"
Lorna, Copywriter
Blogging for Business Workbook
Download and print your workbook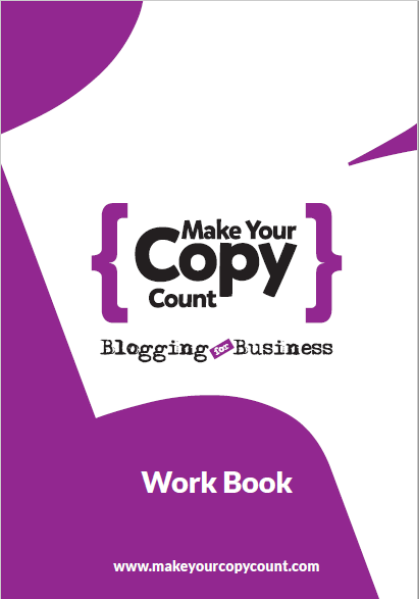 Make notes as you work through the modules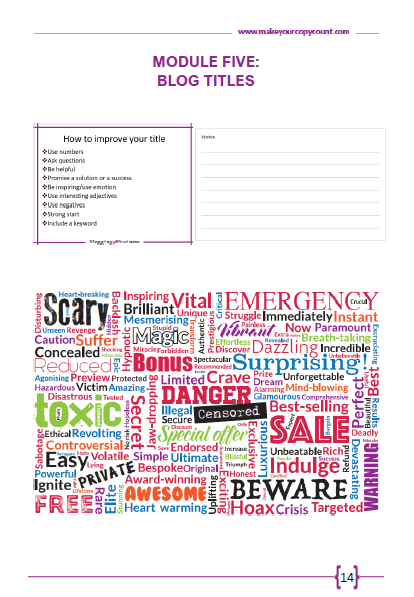 Complete the practical tasks as you go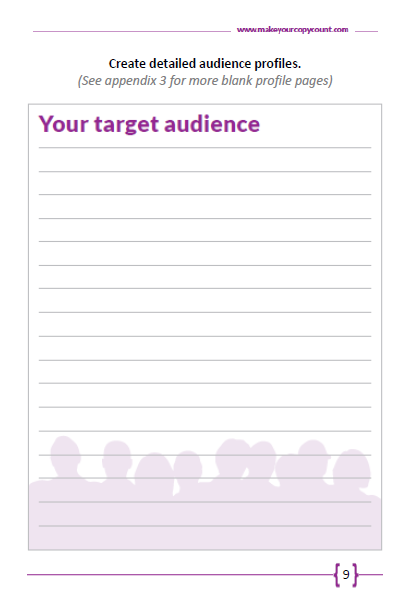 Who is Blogging for Business for?
Blogging for Business started as an in-person workshop in 2017 and has been delivered to business owners and marketers from all sectors. During the lockdowns of 2020, we decided it was time to create an online version of this popular workshop , building on the content from Lisa's live workshops and her first book, A-Z of Blogging. 
It covers everything from the basics of content marketing to writing and structuring your posts to strategies for increasing your reach and repurposing your content. 
It doesn't cover monetising your blog through ads or affiliate links, so if you intend for your blog to be your business, this probably isn't what you're looking for.
But if you are a freelancer, coach, consultant or small business owner who would like to use your blog as a marketing tool, then this course is for you. Whether you are brand new to blogging or simply want to get better results from your existing blog, this course will help you build your skills and confidence so you can blog with purpose. 
If you would like content marketing for your team, we also offer a live workshop available in person or via Zoom. Email lisa@makeyourcopycount.com to discuss your requirement. 
About Make Your Copy Count
Make Your Copy Count Ltd was incorporated in January 2017 by Lisa, who had previously been trading as Lisa Slater Copywriting since 2014. 
Prior to the launch of Make Your Copy Count, Lisa had been focusing solely on "done for you" copywriting services, but had identified a real need for simple, practical copywriting and content marketing training. So as well as launching a new brand, she also launched two courses: Blogging for Business and Write to Sell. 
In 2019, Emily joined the team, supporting Lisa with social media and content creation for clients. Since 2020, we have moved away from offering done-for-you copywriting services, focusing more time on delivering high-quality training, consulting and mentoring services. However, we like to keep our skills fresh, so we still take on a few select clients who need our help with web copy and blogs. 
"A while ago I worked with Lisa in a 1-1. Lisa advised me, that while it might feel counter-intuitive to niche my blog, that this would net me greater engagement. I followed Lisa's advice and I have to say this has worked really well for me! As a result of focusing on my specific audience, I've been invited to contribute a monthly blog post to a professional group."
Anne, Careers Professional
"Lisa keeps everything so simple with so many useful tips and ideas. It all makes total sense without being overwhelming or over the top."
Nadine, Marketing Manager
"I have been on 2 courses held by Lisa, blogging for business and write to sell and they have both been very well organised and full of useful tips and information! highly recommend!"
Irram, Marketing Executive