What's hiding in your content closet?
A good pair of jeans is a great investment.
You can wear them over and over again.
You can pair them with different tops and shoes to suit different occasions.
And a decent pair of jeans will last for years without going out of fashion.
Your best content should be like a good pair of jeans.
You should share it over and over, not just once.
You should repurpose it for different platforms.
And it should last – it should be relevant for months and years to come, not just be based on a passing fad.
Create 'little black dress' content
I wouldn't class myself as a fashion expert – far from it – I'm a 'practical over pretty' kind of person if I'm honest.
But one thing I do know is that the little black dress is often heralded as a wardrobe staple for women because of its simplicity, elegance and longevity – it never goes out of style. Most importantly, it's versatile.
But why on earth I'm I talking about jeans and little black dresses?
Because they provide the perfect examples for how you should view your content.
You buy wardrobe staples like jeans or little black dresses because you want longevity and versatility. You want clothing that you can dress up and down to suit different occasions, that you can wear multiple times and that won't go out of date.
Content should be like a wardrobe staple. It should be versatile and long-lasting. Sure, you might have the odd bit of 'throwaway fashion' – content focused on current trends or industry updates. But when it comes to your long-form content, your value-adding content, your cornerstone content, this should be stuff you can get a lot of wear out of.
Sometimes you buy an outfit for a specific occasion, but that doesn't mean you can't wear it to a different event. Same goes with your content. You might have created it for a specific purpose – your website, a presentation, a product launch. But that doesn't mean you can't dust it off, add a few accessories, and wear it somewhere else.
The biggest mistake you can make with your content is only sharing it in one place, one time.
Getting the best from your blogs
Blogs are fantastic for resharing and repurposing. They are one of the most versatile and cost-effective types of content you can create.
They can be easily shared anywhere and everywhere – on social media, via email, even in a text. All you need to do is copy and paste the URL (link address).
The other advantage of blog posts is they are easy to update, so you can make tweaks whenever you need to add new information or change any out of date statistics. 
Sharing
Publishing your blog post is only the first step. Nobody is going to find it if you don't tell them it's there. So once your post is live, you need to share, share, share.
Depending on how your website is set up, some social media sites will automatically pull through the header image, title and an excerpt when you share the link. If not, you can do this manually. 
I create a header image for each blog post that includes the title. I then make a smaller square version that can be used on different social media pages if they don't pull through the image automatically.
When you share a link to a blog post, it can be a good idea to give it a bit of context rather than just sharing the link. Summarise the content – give readers a reason to click through and read your blog.
As well as social media, you can share your blog post in email newsletters, any private groups you run, and on your Google dashboard.
And don't forget to include links to past blog posts in your new posts. You'll always find a related articles sections at the bottom of my blog posts – it helps people find other relevant content. 
Resharing
I always recommend publishing your original blog posts on your own website first.  But once your blog post has been live on your site for a couple of weeks, you can reshare the same post as an article on Medium and/or LinkedIn.
Medium makes it really easy to share your article. All you need to do is copy the URL, go to your Medium profile, click on stories, import a story and then paste the link. You can then make any changes or tweaks to the wording, format or images before you click publish.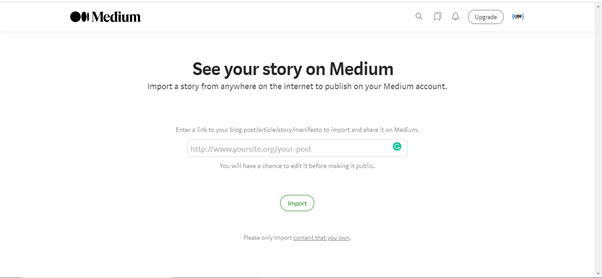 At the bottom of your Medium article, you'll see a note letting readers know where and when the blog post was originally published with a link back to your website.
Sharing your post on LinkedIn is almost as simple, but rather than just sharing a link, you'll need to copy and paste all the body copy.
From your LinkedIn home page, click on 'write an article', add your image, add your title and then paste your blog post. You might need to spend a few minutes formatting and tweaking, but it's much quicker than writing a brand new post from scratch. You might also want to include a link back to the original blog post or your website.
Now when people view your activity they'll see a list of your articles.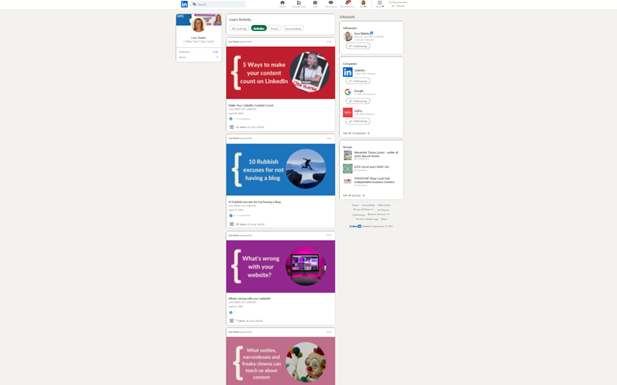 Repurposing
And now for the fun part!
As well as sharing your post multiple times across all your platforms, you can also repurpose the content. 
Take sentences or paragraphs from your blog posts and turn them into standalone social posts. 
If one of your posts has been particularly popular, you can create a video version summarising the key points. Or if you've written a series of blog posts, you could turn it into an email series, a course, or even a book.
Take my A-Z of Blogging series, for example. This started out as 26 blog posts, each relating to a different letter of the alphabet – A is for Analytics, B is for Backlinks and so on. I also created a shareable image for each letter.
My original idea was to put all 26 posts into a downloadable PDF with a bonus tip for each letter. But a client suggested turning the content into a book instead so that's' what I did.
I also created a video for each letter based on the contents of the blogs and then created a playlist for these on my YouTube channel. The videos were added to the relevant blog posts too and I shared them as standalone posts on social media.
Some of the posts have been turned into PDFs, some were incorporated into an email series I did and, 4 years after they were originally published, I still go back and pull tips or sections out to share as social media posts.
The point is blog posts shouldn't be just a post on your website gathering dust. Old blog posts can be a mine of content.
Revamping your videos
You might think you can't do much with a video other than share it here, there and everywhere, but that's not true.
Yes, you absolutely should be sharing it, but you can incorporate it in other places too.
Let's take this video interview I did in 2020. 
Not only have I shared it on my social media pages several times and added it to my YouTube channel, I've also created a blog post around it, building on the existing content.
And of course, as well as sharing that blog post on all my social channels, I also created a LinkedIn article too. And that article has been added to my featured section. Plus, I often send the link to the video or the full article via email or direct message to anyone who has asked my advice on what to write on LinkedIn.
I've also summarised the content to create short social posts: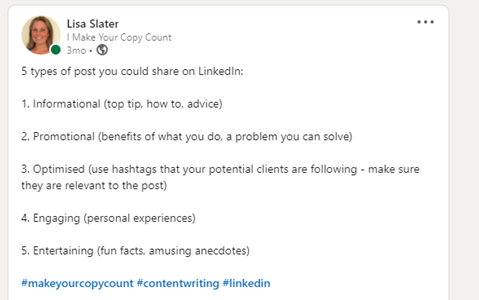 Transcribing
Another top tip for repurposing video is transcribing the audio and turning it into a blog post. You can always include the original video in the post as well.
Not everyone likes watching videos, so having a written version of your content can help you appeal to a wider audience. Plus, search engines find it easier to read written content than videos, so it can help with your SEO. And if any part of your video is out of date, you can amend the text version far more easily, so that your content can continue working for you.
The other advantage is that you can then reshare and repurpose your blog post version in exactly the same ways as I've mentioned in the above section on getting the best from your blogs.
There are plenty of options when it comes to transcribing your videos – outsource to a VA, use transcription software or even just play your video to Word with the dictate tool switched on. 
Salvaging social posts
I love social media, in particular, LinkedIn. But there's a problem with social media – your content doesn't last long.
You put out a post and it appears in other people's feeds for a couple of hours, days or weeks at most. Then it's gone unless someone scrolls through your posting history.
That's why I prefer to create long-form content like blog posts and then repurpose sections as social posts.
But that doesn't mean you can't repurpose content you've created for social.
Take the opening section of this blog post as an example. That's right – I originally wrote it as a LinkedIn post: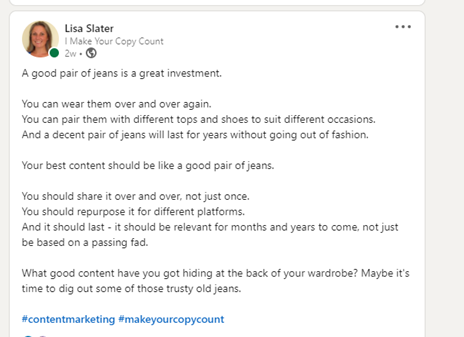 Social media posts can be a great way of testing a subject without spending hours writing an article that nobody will be interested in. You can create a short post and see what level of engagement it gets. If the response is good, build on the content and create a blog post or video. You can use comments as a guide as to what to include, or create a poll, then discuss the results.
Or if you're feeling adventurous, ask your connections to suggest ideas for your content. You could end up with some really interesting subjects. Here's an example of where I did exactly that.
What nettles, narrowboats and freaky clowns can teach us about content
And of course, if you've written a good social media post, you can always share it more than once – who's really going to remember a post you shared two months ago? 
Time to dig deep in your content closet
Coming up with original content every day is a tough ask for anyone and can quickly lead to overwhelm or burnout. It's perfectly fine to reuse and reshare content over and over again. Most of your followers and connections won't have seen it first time round, and even if they did, they might not have given it much attention.
We're bombarded with hundreds of pieces of content every time we scroll through social media or search something on Google. So even if someone has read your content before, they might not remember it. And if they do, they just won't click on it the next time it appears in their feed.
Think about TV adverts – no advert is only shown once. We see the same adverts over and over for months on end. We're used to it. And we can easily zone out if it's an ad we don't like.
As long as you aren't sharing the same blog post on your feed every ten minutes, people are generally ok with seeing the same pieces of content more than once.
And it's not just blogs, videos, podcasts or social posts that can be reshared and repurposed.
Look back through old presentations or webinars you've delivered. Can these be turned into blog post or are there some slides you can turn into social posts?
Go back through old email newsletters and pull out any useful tips you shared.
Even client testimonials can be turned into shareable content for social media.
If you've ever decided to have a wardrobe clear out, you've probably experienced that feeling of finding a once loved item of clothing that you had completely forgot about.
Going back through your old content is exactly the same. You'll no doubt find snippets of brilliance that you forgot existed. And with a bit of a tidy up, you'll have some good-to-go content.
So what are you waiting for?
Get digging in that closet of content and give some of those old outfits a new lease of life.
Do you want to improve your copywriting skills and get confident creating content? 
My free 14 day email course will help you do just that. 
What's covered? 
Direct marketing
Writing sales copy
Copywriting formulas
Website copy
Blog writing
Social media
Your strategy
And much more. 
Tips, advice and practical tasks delivered straight to your inbox. 
Sound good?  Sign up now and let's Make Your Copy Count.