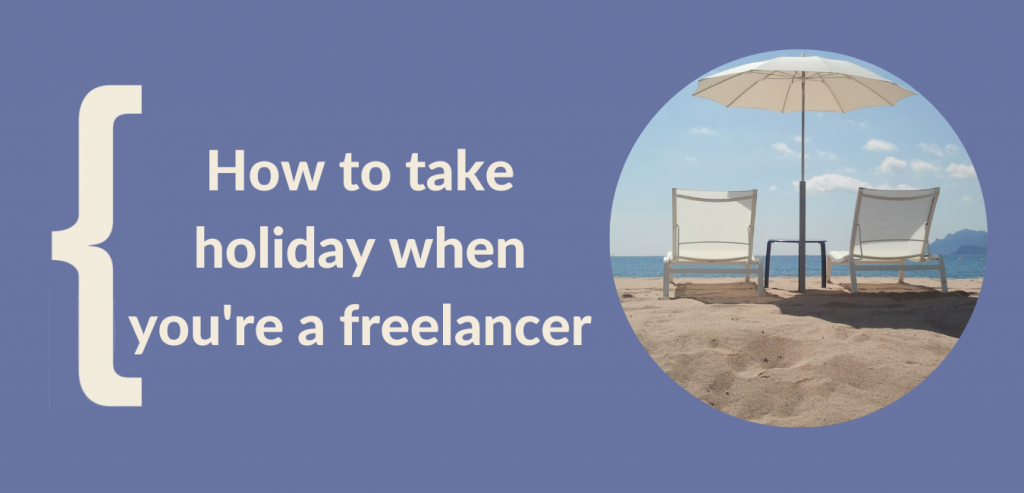 How to take holidays as a freelancer
This isn't a blog post I thought I'd need to write, but from what I see on social media, there's a common belief that being self-employed means you can't have proper holidays.
What a load of rubbish!
I started freelancing around a full-time job in 2014. In 2016, I ditched employment to go all in on my business. And do you know what I did in my first week as a full-time self-employed freelancer? I went on holiday.
In my first year, I took three holidays. And I've taken at least two holidays every year since I started working for myself.
If taking all those holidays makes it sound like I'm not committed to my business, I assure you that is not the case. 
My business provides my full-time income. It pays for my half of the mortgage, my half of the bills and food, my clothes, my social life, my essentials, my little luxuries, and my holidays.
My point is you don't have to sacrifice time off or holidays just because you work for yourself.
In fact, isn't the whole point of working for yourself to have more freedom and flexibility?
So why do so many freelancers think they can't take time off from their business?
Taking time off improves your business
You might have heard people saying, "if you love what you do, it doesn't feel like work" – you might even have said it yourself.
But let's be honest, nothing is so good you want to be doing it every waking minute of the day.
I absolutely love what I do – I have fantastic clients, work I enjoy, and a business that makes me happy. But it doesn't mean I don't want to chill out by the pool with a good book and a beer every now and then.
And when I take time out to do that, I always come back refreshed, revitalised, and ready to go.
Being constantly focused on your business and never stepping away from it to take a break is bad for you and for your business.
You can't give your business 100% if you are tired, anxious, and stressed out. You'll start making mistakes, adding to your workload, increasing your stress levels, and heading into a downward spiral.
Health reasons aside,  there's another great reason to take a break – it improves your business.
When you're too close to something, you can lose sight of the bigger picture. You start focusing on the wrong things. Minor issues can feel impossible to resolve. Something that should be simple can feel like a complex challenge. It can all get a bit overwhelming.
But when you take a step back and let your mind and body have a rest, you find your subconscious works on your business without you.
When you come back to it, you come back with fresh eyes. Things feel clearer. You refocus on your goals. You feel ready to go again.
And as a result, your business gets better.
You can deliver a better service to your clients because you aren't feeling overwhelmed and overworked.
All great reasons to take time out every now and then.
Of course, that doesn't mean just dropping everything with no notice and jetting off somewhere. Taking holiday does require a little forethought and planning.
Manage your time
(and communicate with your clients)
When you work for a company, you don't just bugger off on holiday without letting anyone know – you arrange cover, do handovers, and put your out-of-office on.
When you work for yourself, it's the same principle – you need to plan.
A lot of this comes down to good time management and communication.
Let clients know if your holiday will impact them. Will you be delivering the work earlier or later than usual? Is there a cut-off date for any new projects? Do you need to reschedule your weekly or monthly call?
Most clients are reasonable – they won't begrudge you taking time off as long as it doesn't cause any disruption to their business. And if they do have a problem with you having a holiday, you need better clients.
In the lead-up to your holiday, make sure you don't overload yourself with work. Have a cut-off date for taking on new clients or projects. If you get any new enquiries or project confirmations after that date, book in calls and meetings for after your holiday and schedule any work for your return.
You might have to work a few extra hours in the run-up to your holiday, but ideally, you don't want to take too much work with you.
Keeping your business running while you're away
Taking time off as a freelancer doesn't mean closing down your business completely while you're away.
There might still be the odd email or enquiry to deal with, but you don't want to spend you're entire holiday working.
If you have a busy inbox and you do want to keep on top of emails while you're away, set yourself times to work. Perhaps you want to get up an hour earlier than everyone else so you can respond to anything urgent. Or maybe you'll set aside an hour before your evening meal.
Minimise your work time and deal only with urgent issues. If you have any non-urgent enquiries, let people know when you'll be back.
All you need to do is send is a simple message along the lines of: "I'm on holiday at the minute. I'll be back on Saturday, so I'll give you a call next week/take a look on Monday."
Another thing you'll want to keep on top of while you're away is your marketing. You don't want your leads to dry up completely, or you'll have a lot of catching up to do when you're back.
Fortunately, scheduling tools allow you to keep things ticking over. Schedule your social media posts, pre-write any emails, and check any automations or ad sequences are working correctly.
But even if you do miss the odd enquiry or go quiet on social media for a few days, the world won't end.
Your business isn't going to collapse just because you took a week off.
Perhaps you're worried about the financial implications of not doing any billable work for two weeks. If that's the case, then you need to get control of your cash flow.
Don't spend every penny that comes into your business as soon as it comes in. Learn to manage your cash flow, and you won't need to worry about taking a few days, a week, or even a couple of weeks off every now and then.
I always make sure I have a buffer in my business. I pay myself the same each month regardless of what I bill. When I have a bumper month, I leave the extra money in my business. Doing this means I have enough to pay myself in the months when I don't earn as much (such as when I take a week or two off).
If you aren't earning enough to build a buffer (or even cover your costs), then you have a bigger problem than not being able to take holiday.
The problem is usually one of two things – you aren't charging enough or you aren't attracting enough clients.
If you're struggling to attract clients or charge the right prices, my book will help.
Build a business that works around you
Nobody enters the world of freelancing wanting to spend every waking minute working.
Even if you have the best clients in the world, you still want time out to enjoy the fruits of your labour.
So build a business that works around you.
If holidays away from home aren't your thing, take time off for other stuff – a couple of days to repaint the office, catch up on the gardening, or binge-watch your favourite TV show. These things can be equally as refreshing as a beach break (if they are the things you enjoy).
Maybe you want time off to spend with the family or to catch up with friends you haven't seen in a while. You should be able to do that without feeling guilty.
Your business should work around you. It should be structured to give you the lifestyle you want. If it isn't, you need to make some changes.
My book – The Freelance Fairytale – teaches you how to create a business that works on your terms.