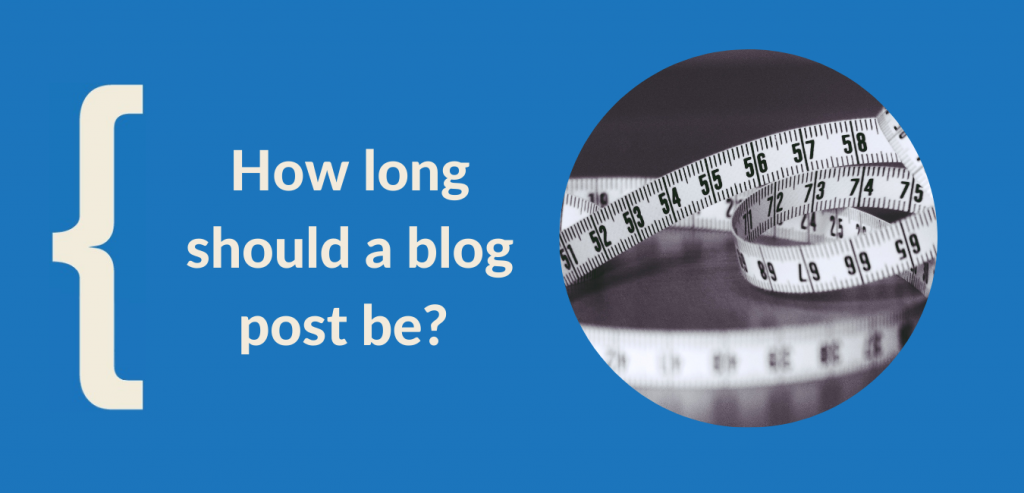 One of the questions I often get asked is how long should a blog post be. Most sources say that a blog post should be at least 300 words if you want it to help with Search Engine Optimisation (SEO), but research suggests posts between 1200 and 1800 words perform best.
So just how long should your average post be? Does a 3000-word article perform better than a 300-word post, or do long blog posts put people off?
Will people read a long blog post?
The answer is yes. After all, people are prepared to read an entire book on a subject if they find it interesting or important enough.  However, people will only read a long post for as long as it holds their attention, so it needs to be well-written. Nobody wants a 3000-word article that waffles on without ever really getting to the point.
There are also benefits to long posts when it comes to engagement. If an article is useful, interesting, entertaining or value-adding, then a reader is more likely to share it, comment on it or like it. As a business, creating in-depth articles shows your expertise and helps you build trust with a reader.
How do you make long posts engaging?
First, you need to pick subjects that people will actually be interested in; then you need to decide how in-depth you want to go.
When writing a long post, it is a good idea to split it down using headings and sub-headings. You might even want to put key points in large, bold or coloured fonts to make them stand out. To give you an example of what some longer articles look like, here are some 1000+ word posts I've created:
Here are some examples of 2500+ word articles that I've created:
This post is over 6000 words and is one of my most visited pages:
Each of these articles covers a subject in detail, but that doesn't necessarily mean that people will read every word. They may just skim the article and pick out the important or relevant points. Headings and subheadings make it easier for the reader to find the information they need.
Even if someone is skimming a long article, they will spend more time on the page than they would if they were skimming a 300-word article.
Are short articles a waste of time?
Not at all. Some subjects only need short posts; there's no point trying to drag out a blog post just to get the word count up. You also need to consider how much time you can dedicate to blogging or how frequently you want to blog.
If you're blogging every day, then you'll probably find 300-600-word posts more manageable than 2000-word articles. However, if you want to create in-depth articles that provide value for the reader, then you should consider longer articles too.
Try testing different article lengths to see which work best for your topics and your readers.
The most important thing to remember is to create content that interests your target audience. If your content is boring, it doesn't matter how long or short it is as nobody will want to read it.
Subscribe to Lisa's daily email for more tips and advice on content, copywriting and business.