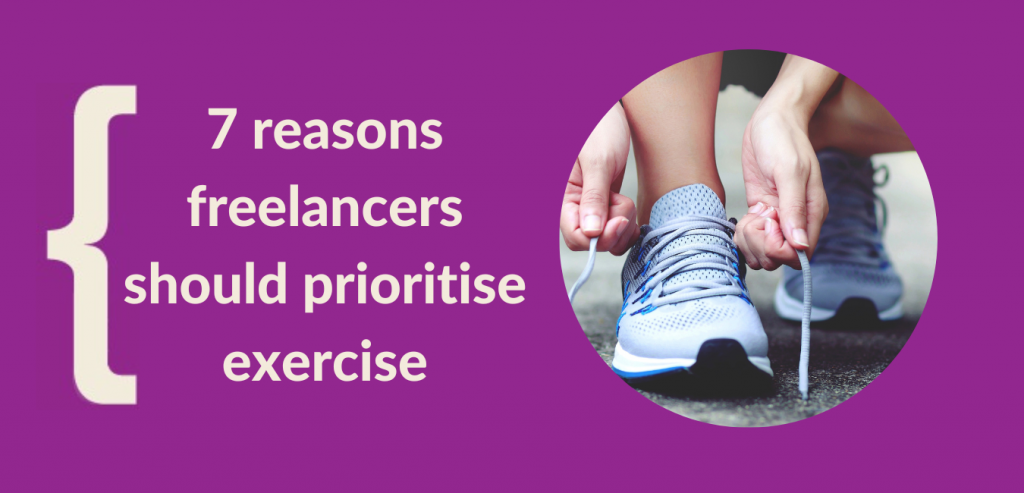 Are you prioritising your health and wellbeing?
If you'd have told me 15 years ago, I'd be exercising four to five times a week and running half marathons, I'd have laughed in your face. I was hardly the poster girl for healthy living.
These days, I can't imagine my life without regular exercise, and I genuinely don't think I'd be able to deliver the quality of service I do if I didn't make time for it. 
I know it's easy to neglect your fitness as a freelancer – trust me there are plenty of days where I look for every excuse possible not to get those trainers on. But I make myself do it because I know there are so many benefits. 
And I wholeheartedly recommend freelancers, especially those who work from home, make exercise more of a priority. You and your business will be better for it.
7 reasons freelancers should prioritise exercise
Many of us who have the pleasure of working from home also have the joy of spending 80% of our day staring at a screen, taking phone calls, and ticking off admin jobs.
And when you're absorbed in running a successful business from the comfort of your home, it's all too easy to neglect your health.
So if you're currently finessing the freelance life but not pencilling in any time to get your body moving, read on to find out how fitness can actually benefit your business as well as your body.
1. Physical benefits - improve posture and reduce aches and pains
It goes without saying that exercise improves our physical health. It's good for our heart, lungs, muscles and even our bones. But what does this have to do with freelancing?
Well, many freelancers work from home using their laptops or computer. And while this is a great way to run a business, it's not so great for our posture, core strength, or joints. Sitting at a desk or spending hours hunched over a screen can be detrimental to our bodies.
You can start to undo some of that damage by giving your brain a break and participating in regular exercise and stretching.
Working out frequently will lessen the aches and pains that come from sitting for long periods and give all of your muscles an equal chance to work. Weight lifting is a fantastic way to correct muscle imbalances that cause bad posture and general aches, while doctors often recommend swimming to relieve lower back pain and sciatica.
Exercise boosts your endurance, and a short, sweaty workout session will renew your energy and give you the brain power to deal with your next work task. So if you're starting to feel the strains of freelance life manifest in bodily aches and pains, take a gym break to help you to recover and rejuvenate.
Ever been staring at your laptop, trying to tackle your workload whilst your eyes are slowly glazing over? And suddenly, you're re-reading emails for the third time as you realise you've been taking in zero information?
If you're succumbing to the tiredness, it may sound counter-productive, but getting up from your desk and moving your body for at least 30 minutes can help you tackle the fatigue so you can return to your desk full of energy and motivation.
Low-intensity exercise is an effective way to fight tiredness, and that means you don't have to go too crazy to reap the rewards. Power walking, a light jog, a steady bike ride, vinyasa yoga, or using a rowing or stepping machine are all great ways to incorporate low-intensity exercise into your routine. These activities put less strain on your muscles but still improve cardiovascular health and reduce pain and fatigue.
3. Get a change of scenery and some fresh air
If you work from home and only have yourself for company, you might start to feel a bit stir-crazy after a while, and cabin fever can seriously stunt your motivation.
Exercise gives you an excuse to escape the house, enjoy some fresh air, and take a break. You may be seriously underestimating how much you need some time out.
Some people prefer to exercise alone, but many find they work harder when they're in a group of similar-minded people holding each other accountable. You could look into joining a running club, sports team or a weekly fitness class at the gym. This gives you a chance to socialise and maybe even make some new friends, which will be a welcome break if the only people you've spoken to all day have been pixels on a screen.
If you're struggling to find time to work out, try incorporating exercise into other important day-to-day tasks, such as a trip to the bank, attending appointments, or going food shopping. Finding a longer route from A to B will help you get more steps in, or you can crank up the pace to get a sweat on while you tackle your chores.
We know finding time to exercise as a freelancer can be difficult. There's always something else that needs to be done when you're running your own business, so it's all about finding something that works for you.
4. Reduce work stress and burnout
As a freelancer, your workload can certainly fluctuate from month to month. You may notice a pattern where certain months are uber busy and others are quiet, or it might be quite random and sporadic.
This can be a pretty stressful situation for the self-employed. When you're passionate about what you do, it can be disheartening when you notice the workload has dropped. 
But exercise can be a beacon of light during those harder months. Exercise is the best medicine for reducing stress and anxiety. Plus, it's a productive way to use any free time you get between marketing, creating content and finding clients.
And even if business is booming, this comes with a lot of pressure to keep things afloat. Being self-employed, you are in charge of your own hours, time-keeping, and deadlines, and while freelancing gives you more freedom than a traditional 9 to 5, it doesn't mean it's easier. The last thing you want is to hit burnout.
Keeping up with a regular fitness routine helps you battle both the physical and mental symptoms of stress by pumping up your endorphins and reducing the stress hormone cortisol. A workout is the perfect way to release any pent-up frustration or discouragement you may be having about your work. It provides a positive way to express those emotions rather than relying on unhealthy coping mechanisms.
5. Clear the brain fog and solve that problem
Ever come across a work-related issue and been absolutely stumped on how to proceed? Do you find yourself glaring at your computer screen, trying to scramble together ideas, and getting increasingly frustrated?
Well, taking a time-out and getting in a quick workout could help you clear the brain fog and come up with a solid solution to your issue.
Exercise naturally enhances executive functioning, which can make you a better problem solver with better memory recall and better reasoning. Even short bursts of exercise have been proven to increase our focus and ability to problem-solve.
So if you're caught in the middle of something and are unsure how to proceed, it may be time to pick up the dumbbells or get your running shoes out. Sometimes just taking half an hour to clear our heads can make a sticky situation seem much more manageable once we return to our desks.
Try writing down how you feel about the situation before your workout and then again after. You'll probably notice you're in a much better headspace to deal with the issue, and some of the negative feelings have evaporated just by taking some time for self-care.
6. Boost your self-esteem
Working out can help you view yourself in a more positive light, and people who make exercise a habit generally have a better self-image.
We all have good and bad days at work. Some days we absolutely smash it and feel like number one. Other days, we slog through each hour and feel like we're barely making any progress.
But when you're having a real off day and are feeling negative about work or yourself, exercise is the top way to uplift your mood and put an extra pep in your step.
Exercise is a natural mood enhancer because it releases happy hormones into our bodies that make us feel uplifted and more positive. Plus, it gives us a sense of purpose and achievement – we can give ourselves small fitness goals to work towards, such as lifting a certain amount of weight or running so far without stopping. And when we hit those goals, we feel proud. We feel like no matter what else is going on, we can celebrate the small wins and revel in our determination. 
Find what time of day works best for you. Some people find they can start their day off on the right foot by getting a workout in first thing before they've even had breakfast.
Some people find a midday lunch-hour session is best because it gives them a much-needed break and an energy boost to tackle the afternoon jobs.
And others prefer to exercise at the end of the working day to help them wind down, or to hit the gym in the later hours when it's quieter.
There's no right or wrong time to exercise, but if you stick to a regular routine, you'll reap the rewards after every session.
7. Give clients a better service
You have to look after yourself if you want to look after others. You might have heard the phrase 'you can't pour from an empty cup', and it's so true. You want to give your customers and clients the most amazing experience possible, and the best thing you can do to make that happen is look after yourself first and go into each workday with a healthy mind, body, and attitude.
It doesn't have to involve super intense exercise. We're not saying you have to run every day and sign up for marathons or become a powerlifter in the gym (unless you want to, of course). Even just sticking to a brisk walk, a 30-minute swim, or following along with a dance fitness video on YouTube each day is enough to make a noticeable impact on your mood, productivity, and overall fitness levels.
Find what works for you. Find what you enjoy, what you can commit to, what feels good – something you will look forward to even. Don't spend your entire lunch break scrolling TikTok or Instagram. Take a hiatus from the screens, give your eyes some respite and allow the rest of your body a chance to move. You'll thank yourself for it later (and so will your clients because they'll be getting the best of you).
Which type of exercise is right for you?
If you're new to working out, getting started might feel daunting. With so many different ways to exercise – how do you know which type is right for you?
Here are just a handful of ideas for how you can get yourself active.
Weight lifting is a popular way to get started in the gym. This is the most effective way to strengthen your muscles, making daily tasks easier because you'll be stronger. However, it's important you learn how to lift safely and correctly, as it's so easy to injure yourself if you do it wrong. You may need to start with a personal trainer to show you the ropes. If you don't have the funds for that, there are so many great YouTube tutorials for beginners that will show you how to use gym equipment safely.
You're already carrying the weight of running a business – how heavy can a few dumbbells be?
Running is another great activity for newbies. Plus, it's one of the most affordable ways to exercise, as all you need is a pair of running shoes and a positive mindset. If you need extra motivation to get started, see if there's a ParkRun near you. These are free weekly events where people of all ages and fitness levels get together to run, jog or walk 5km. You'll have the support of doing it as part of a group, and it's very casual and no-pressure, making it perfect for those who are just testing the waters with running.
With a bit of experience under your belt, you'll have no trouble chasing those late payments or running around after your clients.
If you have a pool nearby, swimming is a great low-impact cardio activity that goes easy on your joints. It uses all your major muscle groups, making it the ideal full-body workout. If you're a parent, you could even get the kids involved too and keep fit whilst spending time with your family.
If you're drowning in work, get yourself down to the leisure centre – a good workout is sure to keep you afloat. 
Yoga is amazing for increasing flexibility, strength, and balance, and many people find it helps them just as much mentally as it does physically. There are many different styles of yoga – some go heavy on the meditation aspect, and others are a lot more physically demanding. You may need to try a few out and see which suits you best.
Even just 20 minutes of yoga can be an effective workout, so you won't have to bend over backwards to fit this into your schedule.
Boxing is another fun full-body workout that will have you sweaty and satisfied by the end. And it has the benefits of improving hand-eye coordination and discipline and can help you relieve any work-related stress. See if you can join a beginner's class at a nearby gym. 
With a bit of training, you'll be fighting off your competitors in no time. 
Are you struggling to make time for exercise?
Are you caught in a feast and famine cycle? One minute you're too busy to do anything other than client work and the next you're in a panic, desperately trying to attract new business. It's hard to get into a good exercise routine when you haven't got control of your work schedule. 
But it doesn't have to be that way. You can have a business that works on your terms. That allows you to make time for your business development, your social life, your family, yourself and your health and well-being. 
The Freelance Fairytale: How to create your happy ever after teaches you how. Find out more here.