Business Mentoring For Freelancers
Make good money doing the thing you love for people you like
Are you a frustrated freelancer? 
Frustrated because:
You aren't attracting enough clients
You aren't attracting the right clients
You are always busy but aren't earning as much as you'd like
You've tried all kinds of marketing but nothing works
You have clients you don't enjoy working with
You don't enjoy a lot of the work you do
You are constantly chasing invoices
You keep getting ghosted by people
You're trapped in a feast-and-famine cycle
You're falling out of love with your business
All of these are common problems – I experienced a lot of them myself when I first started out. But they can all be solved.
It all comes down to your marketing and sales process.
It's likely you're experiencing these problems because of one or more of the following:
Your marketing sucks
If you aren't attracting the right type of enquiries, it's because your messaging isn't right. And that's usually because you aren't clear about who you help or what problems you solve for them.
And if you aren't attracting the right type of enquiries, you end up with timewasters and tyre kickers. People who want to pump you for free advice or haggle you down on price.
Your sales process sucks
Maybe you get lots of enquiries but just can't convert them into sales. You do free calls, free meetings, lengthy proposals, and polite follow-ups. And…nothing.
It knocks your confidence, and you start to doubt yourself. But that only makes things worse.
You don't feel confident selling yourself, so prospects don't feel confident buying. You stop valuing yourself and your skills. 
Your clients suck
What happens when you aren't getting any enquiries? Or the right type of enquiries? Or you can't close those deals? Or you stop believing you offer something of value?
You make do with whatever you get – take on whatever comes your way, even if it isn't quite what you want. 
And you end up with clients who don't value your expertise. Clients who don't respect your boundaries. 
You stop enjoying what you do. You end up in the feast and famine cycle. You feel like you have no control over your business. 
But there is good news.
It doesn't have to be this way. 
You can regain control. 
You can make good money doing the thing you love for people you like.
You can fix your marketing and sales process.
And I can help you do it.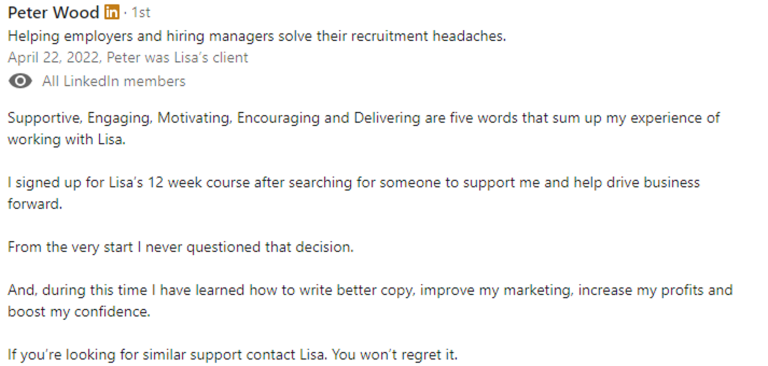 The goal of my mentoring programme is to fix the gaps in your marketing and sales process. The first step is figuring out where the biggest gaps are so you can start closing them.
By the end of our time together, you'll have a clear marketing strategy, an easy-to-follow sales process, and the confidence to attract and convert the clients you want at the prices you deserve.  
My 12-week programme can be spread over 16 weeks (to account for holidays and such) and includes:
Weekly Zoom calls: Each week, we'll have a one-hour call – what we cover will depend on you. But the goal of each call is to move your business forward at least one more step. 
Unlimited WhatsApp and/or email support: Got a question? Having a case of imposter syndrome? Need help drafting a response to an enquiry? Whatever you need me for, I'm here to support you. 
Unlimited copy reviews: I'm not going to write your copy for you, but I will review any copy you write during our time together and show you how to improve it. 
Access to my online courses and Hub: As part of my 12-week programme, I'll also give you lifetime access to my online Write to Sell and Blogging for Business courses to help you improve your marketing. 
Accountability: The whole point of my programme is to get your business from where it is now to where you want it to be, so I'll be setting you "homework" and holding you accountable. 
I want you to get results. 
I take on a maximum of three new mentor clients per month and never have more than ten in my programme at any one time. 
Why? Because I want to give you the best of me. When I work with you, I am invested in your success. I want to give you my full focus when you need it. To respond to your emails and messages as quickly as possible. To answer your questions without delay. 
And I can only do that if I limit the number of clients I take on. 
Of course, that does mean I won't work with just anyone.
Who is my mentoring programme for?
My mentoring programme is for people who sell services, including:
Marketing – web designers, graphic designers, copywriters etc.
Consulting – change, agile, ISO etc.
Finance – accountants, IFAs, mortgage advisers etc.
Coaching – fitness, life, marriage, confidence, business etc.
Business support – VAs, HR, recruitment, IT etc.
Business development – sales, training, L&D etc
Because this is a one-to-one programme, places are limited, so I can't just accept anyone.
I want to work with the people who I think will benefit the most and get the best results. To get the most from this programme, you must meet the following criteria:
1. You must be prepared to work hard and commit time and money
You're either in or you're out. This isn't a pay as you go type offer – you will be required to commit to and pay for the full programme up front (if you are accepted).  And, this is not a get rich quick scheme – it involves hard work and homework. A positive mindset is all well and good, but if you want results, you'll have to put in some effort. We can spread the 12 sessions over 12-16 weeks to accommodate holidays and emergencies, but you will need to set aside time throughout the programme to complete the required tasks. If you cannot dedicate time and energy to working on your business, then this isn't right for you. 
2. You must have control over your marketing 
This programme has been designed for business owners who have full creative control over their marketing, sales, and pricing. This includes having full control over your website content, social media pages and so on. It is not suitable for franchisees with centralised or restricted marketing, or MLM businesses. 
3. You must be an ethical, honest business
I will not work with you if I have any reason to believe that you do not offer value to your customers or clients or if you act dishonestly.  I will not help you promote or sell ideas, propaganda, products or services that I view as dangerous, unethical or a scam.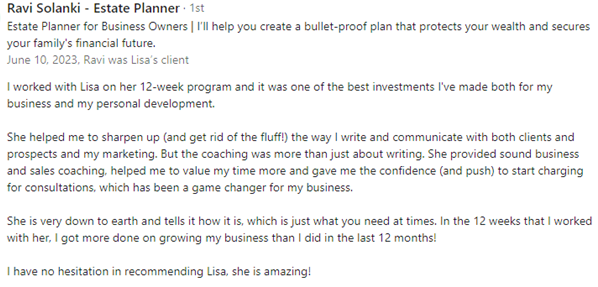 Are you the right fit for my programme?
My programme won't be based on what you think you need. It will be based on what you actually need. 
You're coming to me because I'm the expert. That means I won't let you just pick and choose the stuff that you find easy. If you want results, you need to do the work. And that means trusting me.
It's highly likely you'll have to make some changes. And they might feel uncomfortable. And they might feel scary
What you are doing now isn't working – if it was, you wouldn't have read this far down the page. You know something isn't right in your business. It isn't how you imagined it would be when you made the leap into freelance life.  So I'm not going to simply let you carry on making the same mistakes. But we will play to your strengths and build on the stuff that isn't totally broken. 
And I promise you I will only ask you to do things that I believe will get you the results you want. Most of this will be things I do in my own business – stuff I know works. If it's not stuff I do myself, I'll explain why I am recommending it.
So if you know you need to make changes, you better be prepared to walk the walk.
I will only work with you if I think I can help you. And I will only be able to help you if you are prepared to take action.
If I don't think you are truly invested in your business. If I don't think you are willing to do the work. If I don't think you are going to listen to my advice, I won't work with you.
My reputation is determined by the results you get. And you will only get results if you do what I suggest. If you aren't prepared to at least try doing things differently, there's no point in us working together. I'm not going to take your money if you aren't serious about success.
Am I the right fit for you?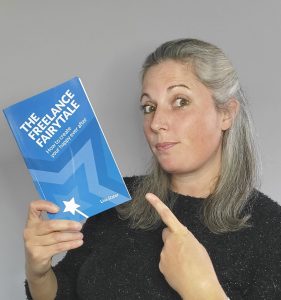 I guess you probably want to know a little bit about me since I'm asking you to trust me with your business. I get it.
So, where do I begin?
Well, I guess I could start by giving you an overview of my background…
Started freelancing in 2014
Rebranded as Make Your Copy Count Ltd in 2017
Created copy for over 200 clients
Delivered training to a wide variety of businesses and organisations
Published my first book in 2018
Started offering consulting services in 2020
Launched my mentoring programme in 2021
Published The Freelance Fairytale in 2022
But I guess the most relevant experience is that I built my business from scratch. And like many business owners, I learnt as I went.
I was pretty fortunate that the skill I was selling was something that benefited my own business too – not all business owners have that luxury. But even so, I still found marketing and business growth tough. I read endless books and articles and invested small amounts of money into personal and business development.
But I still struggled to take my business to the next level.
And then I realised that if I wanted to grow, I needed help. Because there is only so far you can take your business by yourself, then it's time to get support with the things you find hard. And investing a few quid here and there just doesn't cut it. You need to really invest.
So I bit the bullet and invested in a mentor. It did the trick. I fell back in love with my business and started moving in the direction I wanted to go. My only regret is not getting help sooner. 
Don't make that mistake. If you aren't happy with your business, take action now. 
If I'm not the right mentor for you, find someone who is. Because I promise you, having someone in your corner makes a huge difference.
About my mentoring style
So how do you know whether I'm the right person to help you get results?
Well, we won't know until we talk, and that will only happen if you make it happen. 
But here's what I can tell you. If we do go on to work together, I will put all my effort into helping you get your business where you want it to be. 
And that means I will be honest – sometimes brutally so. I am a say-it-how-it-is, straight-to-the-point, no-bullshit type person. 
I won't stroke your ego, pat you on the head or tell you you're doing great if you aren't. 
I will be direct. I will be passionate. I will ask some difficult questions.
I'm not touchy-feely. This isn't about mindset and empowerment, unlocking your potential or harnessing your inner light. This is about doing things in your business that get you the results you want. 
And when you start getting the results, your confidence will grow. And your mindset will change. And you'll fall back in love with your business. 
Most importantly, you'll start getting more of the clients you want. 
My programme isn't cheap, but it isn't expensive either. In fact, at £3000+vat, I think it's exceptional value.
You get one-to-one support throughout – it's like having your own personal fairy godmother, except I don't simply do it for you. I teach you how to do it yourself. It's theory, practice and mentoring all rolled into one.
But before you commit yourself, we need to get to know each other. I need to know you are serious about investing in your personal development and your business. More importantly, we both need to be sure what I offer will solve your problem. 
Every mentor client I work with starts with a 90-minute consultation. During this time, we get to the heart of your challenges and discuss how you can get from where you are now to where you want to be.
The fee for this is £150+vat. 
There will be one of three outcomes from this call:
I can't help you
If it turns out I can't help you, I'll refund your fee. Chances are this won't happen – you've read this page – you know what to expect. But if, for any reason, you've misunderstood what I can help with or you're in an industry I don't work with, I'll end the call and give you back your money. 
My programme isn't the right fit
If you get value from the call, but either one of us decides the 12-week programme isn't right for you, we both walk away happy. You get some actionable points to improve your business, and I get paid for my time. 
We go on to work together
If you decide you want to join my programme, and I believe I can get you the results you want, I'll offer you a place. The fee for your call (£150+vat) will be deducted from the total investment (£3000+vat), and as soon as you've settled the invoice, we'll get started with your 12-week mentoring programme. 
This consultation call is not a sales pitch. I want you to get as much value out of the 90 minutes as possible and will not be pushing you towards my programme. I only open up three new places per month and have a maximum of ten mentorees at any one time, so I only recommend my programme if I'm sure I can get you the results you want. 
This initial call also gives you the opportunity to decide whether you feel comfortable working with me before you commit yourself to three months of together. 
So if you're sitting on the fence about whether to commit, book a call and let's find out whether we're a good fit. 
You're still here. 
Not sure whether to hit that book a call button or not.
What's stopping you? 
The price? 
It's not an insignificant investment, I know. Especially if you are still trapped in that feast and famine cycle, unsure about how quickly you'll make it back. 
I get it. I do. It's chicken and egg. You know you can't fix your business until you get the right support. But you feel like you can't afford to get the right support until you fix your business. 
And I can't guarantee results. I can't guarantee that working with me will fix all your problems.
What I can guarantee is that I'll do everything I can to make sure your investment pays off. That your business will be in a better place after working with me than it is now. 
My past clients have started seeing a return on investment within our 12 weeks together. They've made money they wouldn't have otherwise made as a direct result of implementing my advice. 
And I'm confident you will too. But only if you do the things I tell you to do. Because you'll only get results if you take action. I can give you all the advice in the world, but only you can make the changes, do the work, get the rewards. 
And I'll do my best to make sure you don't fail. I want you to succeed – I want your investment to pay for itself hundreds of times over.  
So don't be scared of investing in yourself and your business. Trust me, once you've made the commitment, you'll be motivated to make it work. 
And anyway, I'm not asking you to commit right now. I'm not asking you to make a decision about whether to invest £3k and 3 months into your business. 
I'm offering you the chance to test the water. To book 90 minutes with me to see whether I really can help you or not. 
And maybe I'll make the decision for you – maybe I'll tell you you aren't right for my programme. Maybe you aren't ready. Or maybe you don't need 12 weeks. Maybe there's a simple fix to your problem that I can teach you in 90 minutes. Maybe there are some actions you need to take before you make such a big commitment.
We won't know until we talk, will we?
So now you have to decide. Will you go away and think about it – spend another day, week, month, or year struggling? Waiting for the right time. Waiting for the answer to appear. Waiting for someone to give you some magic beans. 
Or will you be decisive? Will you choose today as the day, you take action? Will you book that first call – take that first step?
I hope so.