7 ways to win business with a brilliant blog
Content marketing is an excellent way of generating new enquiries and winning business, but how exactly does it work?
In this article, I'm going to show you seven ways you can use a blog to generate more sales.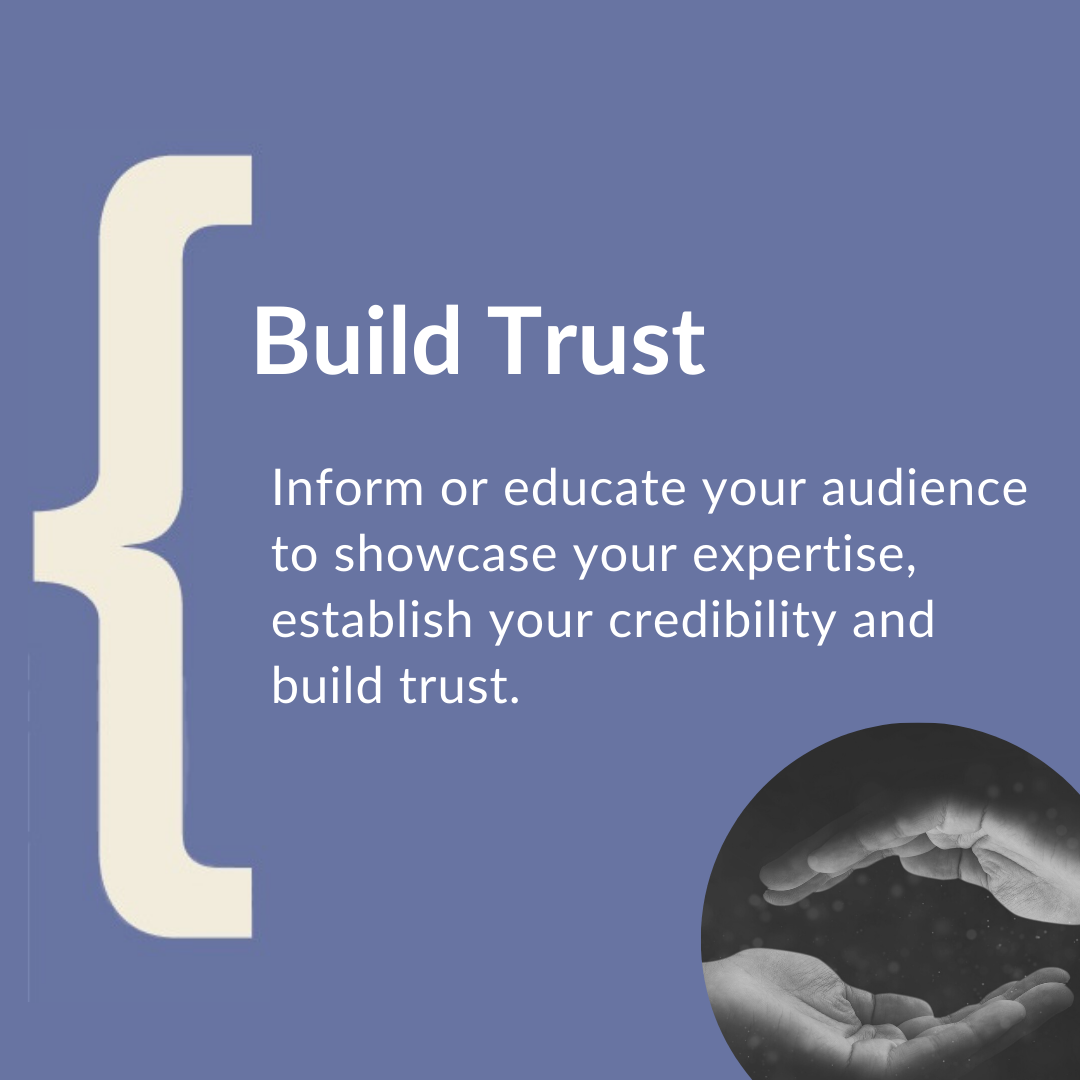 1. Build trust and credibility
You can claim that you're an expert as often as you like, but people are more likely to believe you if you show it. A blog is a fantastic way of showcasing your knowledge and expertise to build trust and credibility.
You can do this by creating blogs that:
Inform or educate readers
Provide tips and advice
Highlight pitfalls, traps and common mistakes
Review products (for example, accounts software or CRM systems)
Explain how to do something
Provide a step by step guide or checklist
Clarify industry changes or new legislation and explain the impacts
By giving people helpful information and advice, you earn their trust. And people are more likely to do business with a company or individual that they trust.
2. Raise awareness
You can use your blog to raise awareness of your products or services – to sell without being 'salesy'.
Using your blog to raise awareness and promote your products and services can be helpful when:
You offer something niche or new to the market
You offer different options and want to help people choose the right one (for example, Facebook ads versus Google ads)
Your industry has a bad reputation or a lot of myths you want to dispel
Your products and services are quite complex
You want to promote the benefits of what you offer
People view your products or services as a luxury rather than a must-have
Using your blog to market your services can be much more effective than directly approaching people and trying to pitch to them. You are offering something useful, rather than simply asking for their business without building trust first.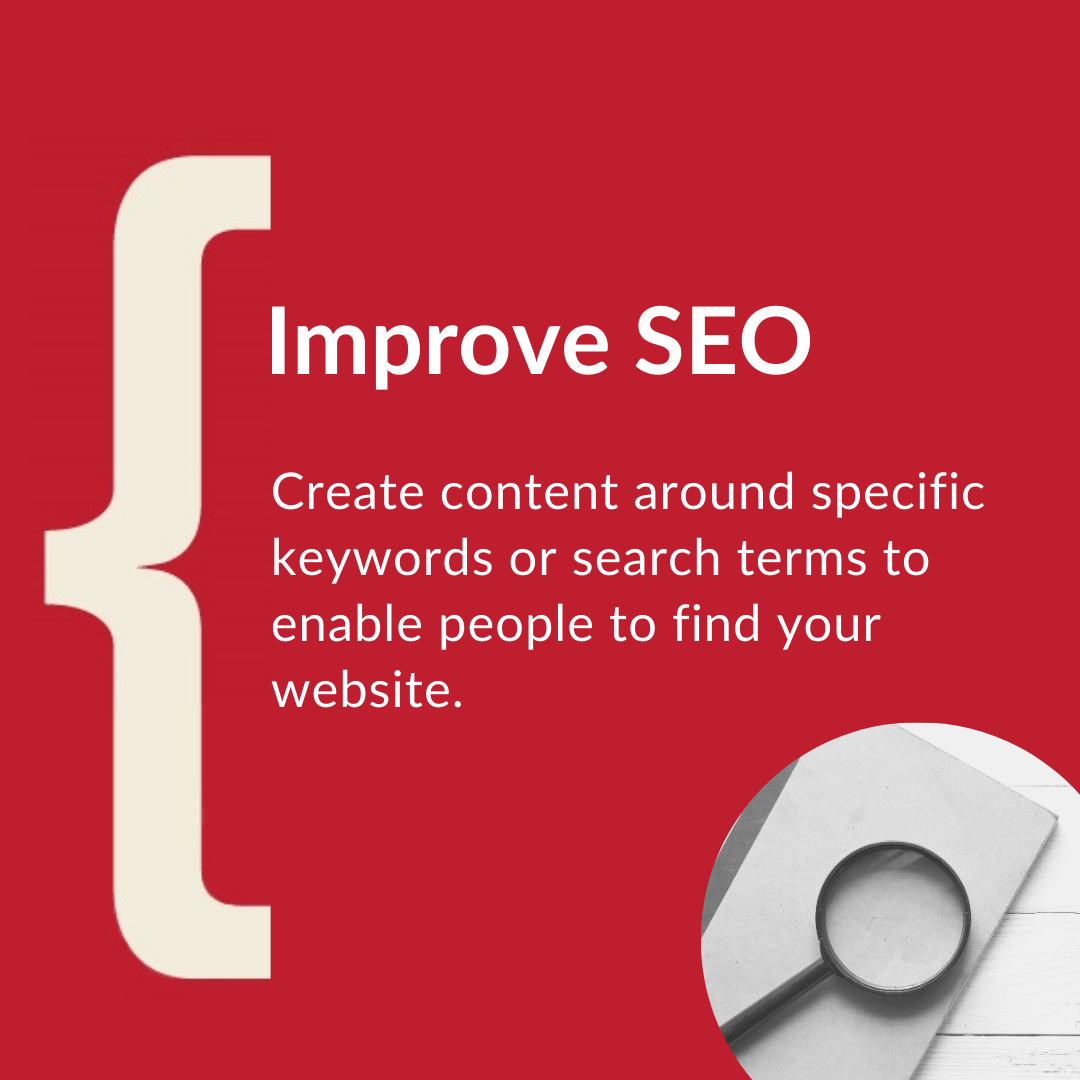 3. Improve Search Engine Optimisation (SEO)
Google (and other search engines) have a very simple goal – to ensure that they provide searchers with the most relevant results. If they don't do this, then their users will go to other search engines.
This means that if you want to get found, you need to be the best match, the best result, for whatever your target audience is searching.
The algorithms are always being updated, and Google doesn't give away much information on how they work because they don't want people to try cheating the system.
The good news is there's evidence that adding quality content to your site does improve SEO. This is because:
You're providing more content for Google to crawl
Adding content shows you are still an active business
Other people will link back to good content, creating natural backlinks
Sharing great content will drive more traffic to your site
Good content will keep visitors on your page longer
If search engines can see that people are linking to your pages, clicking through to your site and staying on your pages longer, they will rank your pages higher.
For more about creating content for SEO, check out this article from Search Engine Land.
The most important thing to remember when you are creating content to improve SEO is that it should still add value for readers.
After all, there's no point driving people to your site if they click straight back off again because your content is rubbish.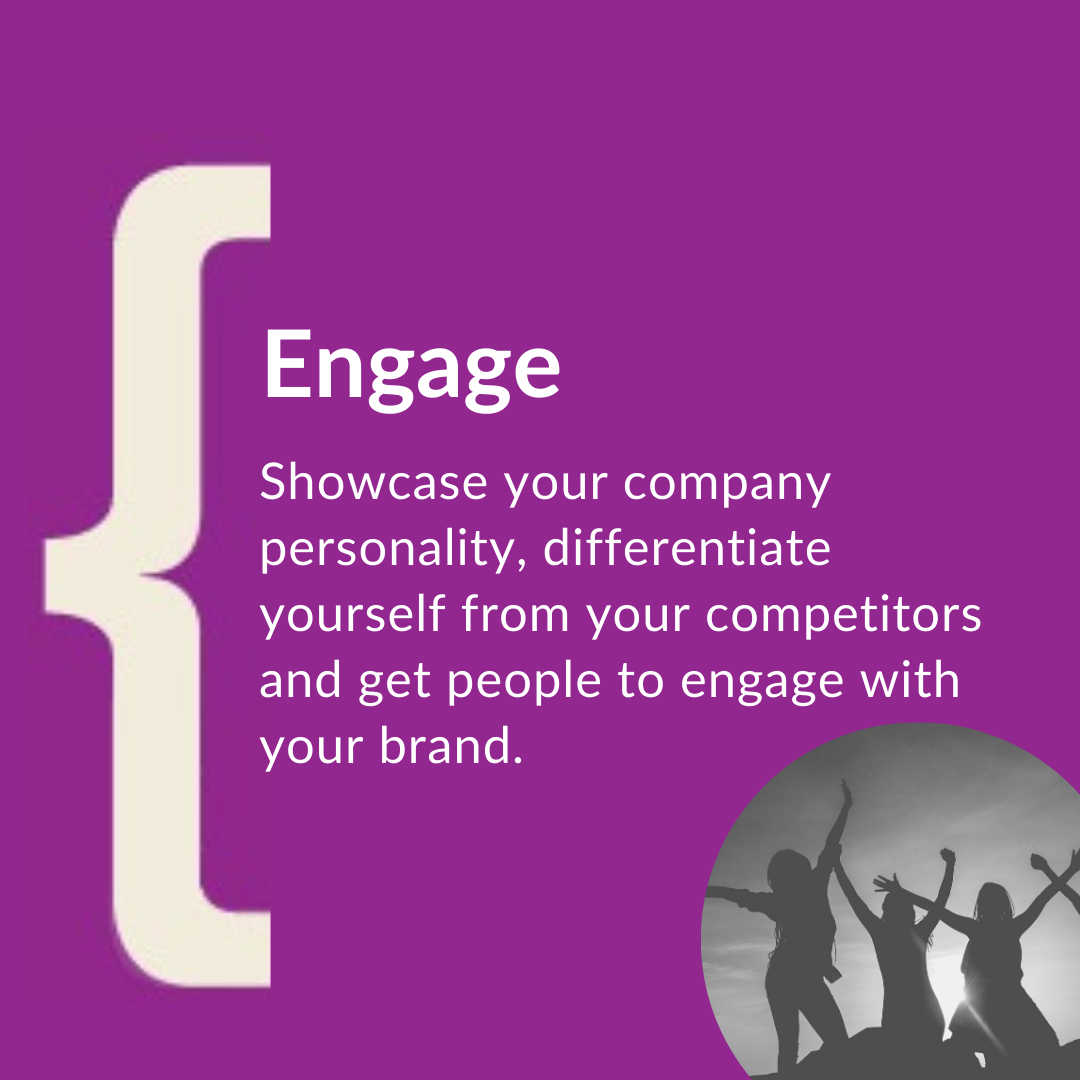 4. Engage people with your brand
Use your blog to show your company personality and values and differentiate yourself from competitors.
Your blog is a fantastic way of letting your potential customers get to know you and see what type of business you are.
You can use your blog to engage people with your brand by sharing:
Company updates
'Meet the team' posts
Case studies and client success stories
Charity initiatives
Good news stories
Details of events you are hosting or attending
Company history
Not only do these types of post help potential clients get to know you, but they also help improve your employer branding, so you attract great employees too.
5. Entertain your audience
If you want to build a big social media following, your content needs to be shareable. Entertain your readers.
Create blog posts that provoke curiosity or attract interest. You don't always have to be fun to entertain; your content can be shocking, controversial, weird, satirical, interactive, thought-provoking or creative. I once wrote a blog post from the point of view of a cat!
Example titles include:
10 worst wedding disasters
Weirdest thing our plumbers have found down a toilet
5 shocking things estate agents have experienced when viewing a property
World's most expensive strawberries
Strangest things people have been asked in a job interview
Business ideas that should have worked but failed miserably
Get creative with your content and entertain your audience. Just make sure that you deliver on your headlines – nobody likes clickbait that doesn't live up to expectations.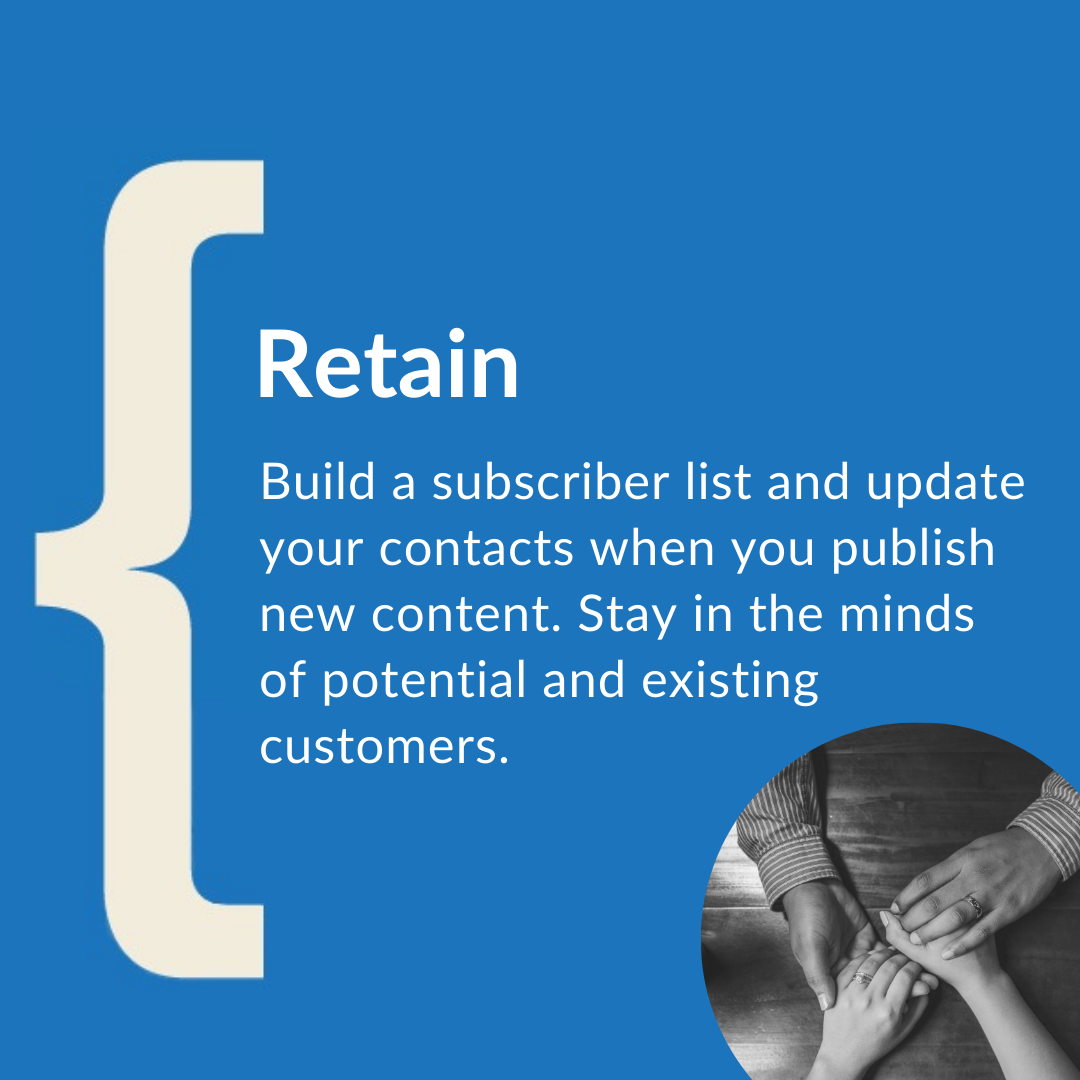 6. Retain existing customers
Blogs can be a brilliant way of staying connected to your past and existing customers as well as engaging new ones. This can be beneficial if people don't regularly buy your products or services, for example, if you sell cars or other big-ticket items.
By regularly providing useful content, you make sure you stay at the forefront of their minds. When they are ready to make another purchase or need your services again, they won't have forgotten about you.
Plus, they are more likely to recommend you to someone else in need of your services if they've recently read something you've sent them as you'll be fresh in their mind.
If you want to use your blogs to retain clients, then incorporate them into a quarterly, monthly or even weekly newsletter.
You can share part of the blog post or summarise it in the email and include a read more link. If you have multiple new blog posts, you can do a short paragraph and link to each individual post.
Email newsletters are a great way to:
Stay in the mind of past and existing customers
Remind customers of the different products or services you offer
Promote new products and services
Build trust with potential customers
Add additional value by providing useful information and advice
If you are sending marketing emails, ensure you comply with GDPR and include an option to unsubscribe.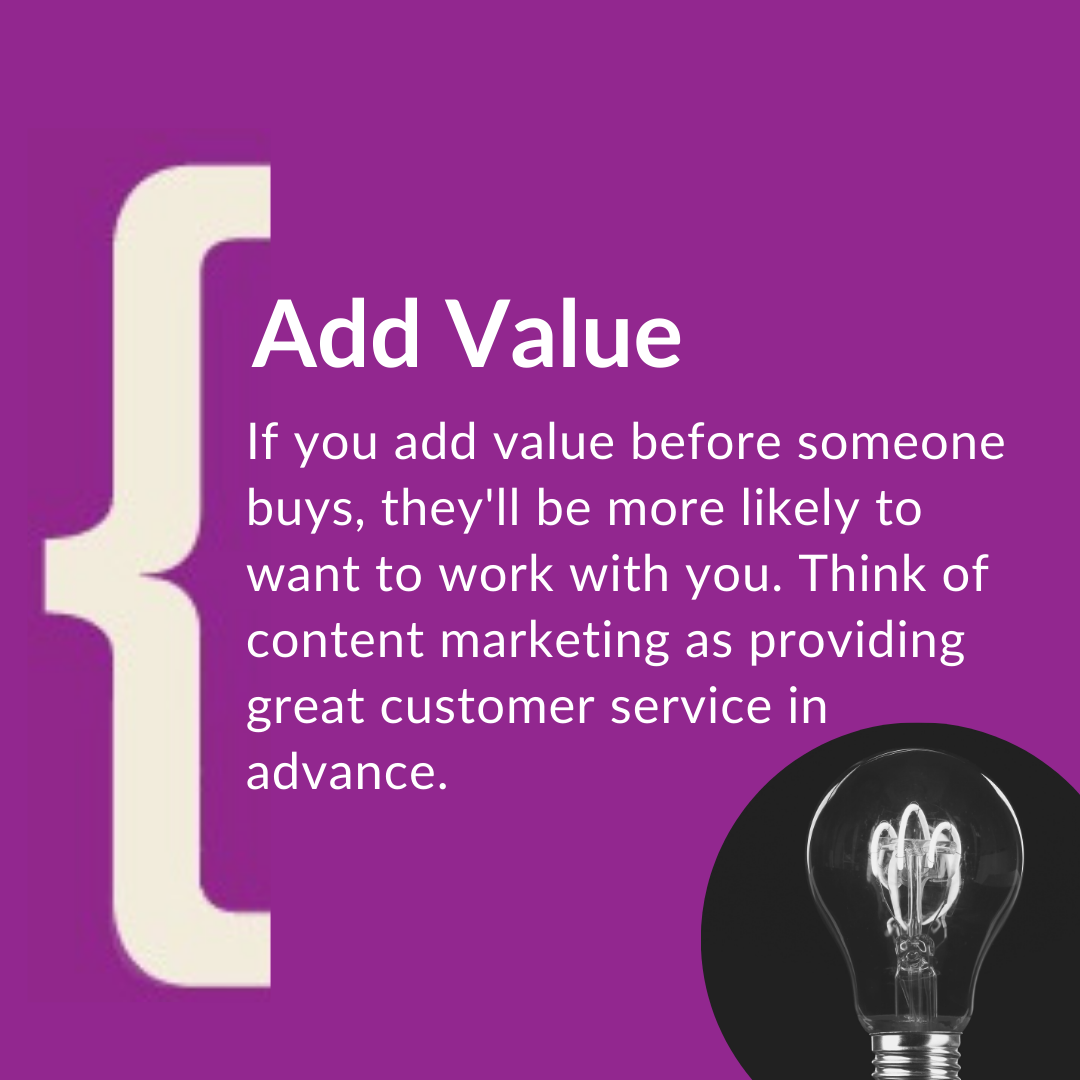 7. Add value
Let's say someone is in the market for your products or services. They haven't heard of you before, but they've come across your website and a competitor site. You both offer what they need, are both within budget, and both have fantastic testimonials.
But you have a blog and your competitor doesn't. On your blog is loads of helpful advice and information that is useful to the potential customer.
Which company are they more likely to be drawn to? The one that might be able to help or the one that is already helping them by giving free advice and information.
Think of your blog like doing customer service in advance – show how great you are before people do business with you.
Here are some ideas of how you can add value:
Provide tips and advice
Warn against mistakes
Offer insight
Raise awareness
Entertain
Inspire
Educate
Inform
Build trust
Share expertise
Show your brand personality
Before you start writing a huge blog post, ask yourself why people should read it – what's in it for them? How does it add value?
The important thing is that readers don't feel let down, misled or disappointed after they've read your blog post. Nobody wants to waste their time reading something that doesn't live up to expectations.
Do you want to improve your copywriting skills and get confident creating content? 
My free 14 day email course will help you do just that. 
What's covered? 
Direct marketing
Writing sales copy
Copywriting formulas
Website copy
Blog writing
Social media
Your strategy
And much more. 
Tips, advice and practical tasks delivered straight to your inbox. 
Sound good?  Sign up now and let's Make Your Copy Count.